Children in the Paradise and Golden Grove communities are happy to be a part of two Learning pods identified as outstanding for the month of April, 2022.  The Learning Pod program is an after-school program which provides high quality learning instruction-including technology integrated Maths, English, Science & Technology lesson plans based on the Ministry of Education's curriculum.  The Learning Pods program leadership team votes monthly on the outstanding club(s) of the month, taking into consideration variables like–student attendance, student engagement, club operational efficiency and overall club management and both Paradise and Golden Grove pods were recognised for their service to the community during the month of April 2022.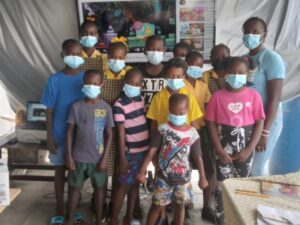 Paradise Learning Pod
Ms Aisha Peters, long time member of STEMGuyana, STEM ambassador, STEM club instructor and learning pod leader has distinguished herself in leading STEMGuyana's brand new learning pod which opened in April 2022.  "In one short month, the pod's progress has been exceptional.  Further the Paradise Learning pod accommodates a few children with learning disabilities and Ms Peters has been able to use simple techniques to engage them while upholding the high quality of instruction and program objectives", said Program Analyst Melissa Carmichael.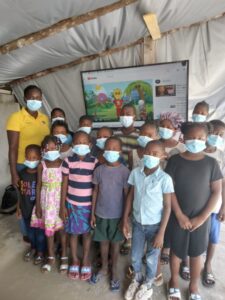 According to Program Analyst Alisha Koulen, "…in addition to adhering to the Learning Pods Program's guidelines, Aisha uses her very innovative mind to creatively explore ways to effectively manage the Paradise program while keeping her students engaged in their lessons.  Ms Peters has gone above and beyond to cater to her students at every level of learning and we want to recognise and reward her for that."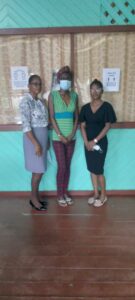 Golden Grove Learning Pod
Ms Alicia Isaacs at the Golden Grove Learning pod has been a club leader in two prior sessions of the program and since the program's inception.  She continues to distinguish herself by the efficient and effective way in which she continues to manage her program.  According to Program Analyst Alisha Koulen who works closely with Learning pod leaders,  "Ms. Isaacs continues to introduce great initiatives for her pod and she consistently works on improving the children's learning experience.  Without much help, she skilfully navigates the issues involved with educating both the younger and older student scholars and she does so effectively.  More than calling with problems, Ms Isaacs invariably calls us to offer solutions".
STEMGuyana leaders believe that outstanding performance should be rewarded and both pod leaders and their volunteers will be recognised for their contributions to the program and specifically for the month of April.  Every recognised Learning pod leader and volunteer will receive a cash prize in addition to a certificate of excellence.
STEMGuyana's Learning Pod program is sponsored by the IDB, Tullow Oil & 'Friends Of STEMGuyana' in the Diaspora.  The Learning pod program is always in need of snacks, tablet computers and laptop computers.  To become a sponsor of one of Guyana's high quality after-school programs, contact STEMGuyana@gmail.com.