STEMGuyana Team Members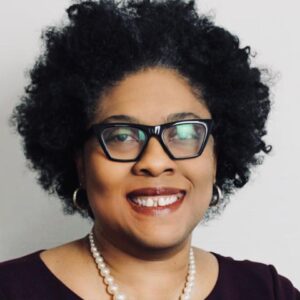 Karen grew up playing basketball with the boys who lived in her community in North Ruimveldt.  She attended St Roses High School and  also represented Guyana as a member of the winning Caribbean championship team.  The basketball skills she learned in Guyana prepared her for several scholarship offers to university in the US.
In the United States,  Karen has had a multifaceted technical and Entrepreneurial Management career with a track record of innovation and success. After graduating from Howard University with a BBA degree in Business Administration and California State University at San Francisco with an MBA degree in Marketing, Ms. Abrams began a career with a large tech company in the US and quickly became an innovative IT Management Executive with an outstanding background leading multiple cross-functional departments and project teams concurrently. She is skilled at designing and deploying cutting-edge IT solutions.
She has a track record of building a business from the ground-up, managing, and restructuring nationwide voice/data networks and she possesses strong technical and leadership skills, with proven experience managing both technical and non-technical teams. She ended her corporate career November 2007 as Director of Operations responsible for Network Fraud and Abuse, Applications development, Project Management, and IT Risk Management.
In 2006, Ms. Abrams founded a start-up Party Rentals Company and later founded a community Math, Science and Technology project in Decatur, GA, serving over 150 children with a Math, Science & Robotics Saturday School program.
Ms. Abrams possesses exceptional budgeting, negotiation, cost reduction and financial management skills. She is a self-starter who is able to communicate effectively with all levels of management, vendors, and business partners. She is also skilled in a wide array of Internet, Network, Telecom, Marketing, Public Relations, Social Media and Entrepreneurial functional areas with proven talent for quickly acquiring expertise in new systems.
Currently Karen Abrams is the Co-founder of STEMGuyana, a non-profit entity responsible for unlocking the world-class technology potential of Guyanese youth.  Her goal is to bring programming, robotics and math enrichment to every community of youth in Guyana so that young people in Guyana will be able to live up to their potential.
Ms. Abrams lives in Enmore, Guyana and Lithonia, GA with her husband and 4 children; Ima, Asha, Caleb and Joshua.  Her daughters Ima and Asha Christian and son Caleb are also Co-founders of the STEMGuyana organization.