Children in the Lima Sands and West Canje communities are happy to be a part of two Learning pods identified as outstanding for the month of July, 2022.  The Learning Pod program is an after-school program which provides high quality learning instruction-including technology integrated Maths, English, Science & Technology lesson plans based on the Ministry of Education's curriculum.  The Learning Pods program leadership team votes monthly on the outstanding club(s) of the month, taking into consideration variables like–student attendance, student engagement, club operational efficiency and overall club management and both Lima Sands and West Canje pods were recognised for their service to the community during the month of July 2022.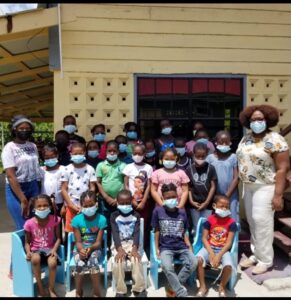 West Canje Learning Pod
Club leader Miss Raylene White and Pod volunteer Ms Rhonda Westmoreland have done an exceptional job with the West Canje pod in the short time since joining the learning pod program . Club leader Ms White is well organized, very involved and communicative with the team & continues to motivate and encourage the West Canje students. She has a very polite and calm disposition, which I believe works well in her interaction with the pod's children. The STEMGuyana Leadership team looks forward to her continued support.
One West Canje parent became curious about her child's enthusiasm for the Learning pod program so she visited to observe. The parent went on to say, "…I am pleased and overwhelmed by what I saw and experienced today with the children being exposed to the game, the Robot show and coding. This is really good stuff and the children were very involved, I had to come to see what my daughter was so excited about and I must say how pleased I am. Please extend thanks you to the folks at STEMGuyana and the IDB for providing this for our kids.  I am grateful and I would like to say thank you on behalf of the other parents. Thank you too Miss White, for taking time from you vacation to work with them.
STEMGuyana, we at West Canje, salute you"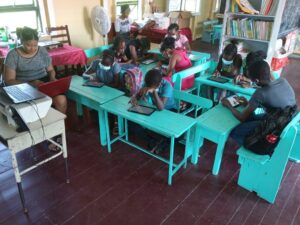 Lima Sands Learning Pod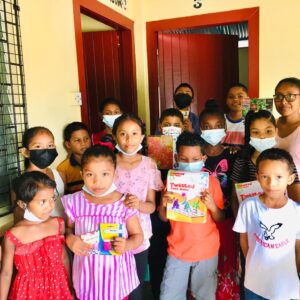 The Lima Sands Learning pod is located in region 2 of Guyana.  According to Ms Alisha Koulen, a member of the Learning Pod leadership team, " Club leaders Miss Kerryann Rose has continued to show us consistency in her work at the Lima Sands pod. Ms Rose is always effective and reliable in providing feedback when needed and she often creates new and exciting ways to keep the pod's children engaged. Miss Rose goes above and beyond our requirements to ensure the community's children are being well served and STEMGuyana appreciates all her hard work, support and resilience."
STEMGuyana leaders believe that outstanding performance should be rewarded and both pod leaders and their volunteers will be recognised for their contributions to the program and specifically for the month of July.  Every recognised Learning pod leader and volunteer will receive a cash prize in addition to a certificate of excellence.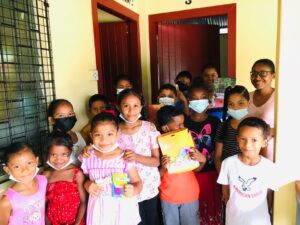 STEMGuyana's Learning Pod program is sponsored by the IDB, Tullow Oil & 'Friends Of STEMGuyana' in the Diaspora.  The Learning pod program is always in need of snacks, tablet computers and laptop computers.  To become a sponsor of one of Guyana's high quality after-school programs, contact STEMGuyana@gmail.com.