***RESULTS WILL BE ANNOUNCED AT NOON ON April 1ST***
Scratch Coding Challenge Rules
Due date deadline for upload – March 25th
Youth 8 to 15yrs old from across Guyana are invited to participate! Win certificates, tablet computers and other prizes. This is a virtual challenge. Your child should have access to a computer (no internet needed) or tablet (with internet) to participate.
——————————————-
CHALLENGE
CREATE A SCRATCH ANIMATION PROJECT REFLECTING YOUR RESEARCH ABOUT THE EFFECTS OF CLIMATE CHANGE ON YOUR COMMUNITY OR COUNTRY.
A) FIRST ACTION – REGISTER HERE
B) (click here) Step by step instructions (Engineering design process) for competition
[YOU CAN GET STARTED WITH THIS TODAY.  CODING IS THE VERY LAST STEP]
C) How to download scratch software to windows 10

C1) Scratch software link for any device
https://scratch.mit.edu/download
D) All entries will be uploaded to a competition management system for grading.  A team of college students from the United States will grade each entry.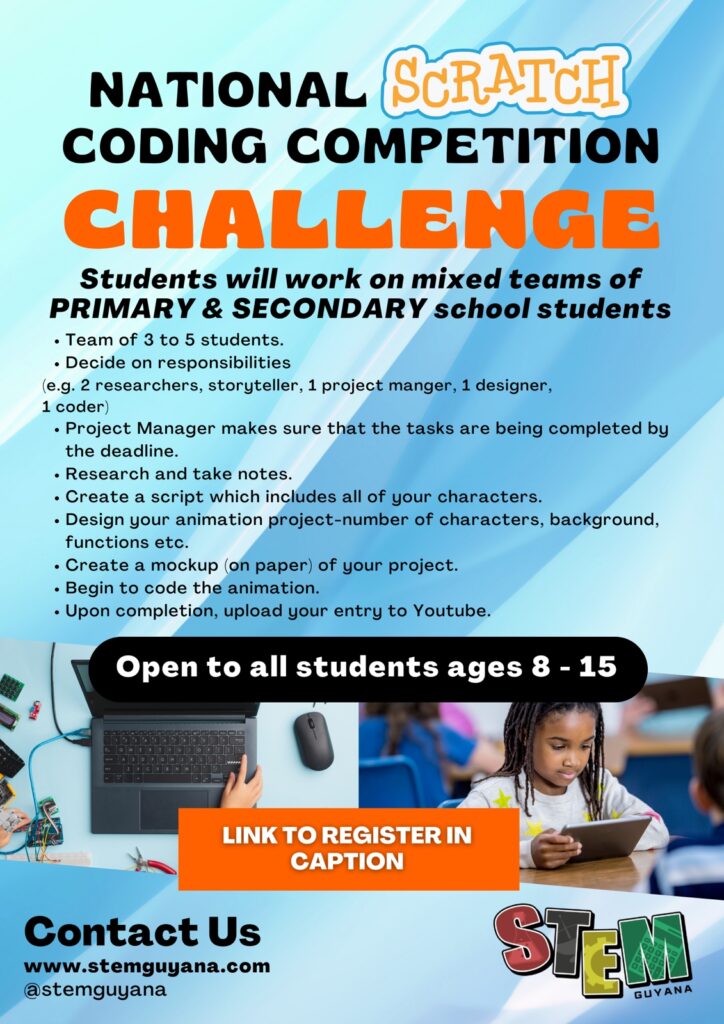 – Animation must be no longer than 2 minutes
– If your child is not familiar with Scratch, that's ok.  Let them work on the tutorials below
– Project must use several functions – sound, 1 or more sprites, movement
– Children must research the topic thoroughly
– Project must be creative and fun
– Upon completion, download video of project and upload to youtube
– Enter youtube link in our online system for AUTOMATED GRADING
(instructions to follow)
**Upload to system only when you're completely sure you have completed project.  Once uploaded our college student volunteers from around the world will grade the project**
YOUTHS FROM EVERY REGION OF GUYANA WILL PARTICIPATE!
– STUDENTS FROM ALL PUBLIC SCHOOLS, CLUBS, CHURCHES, HOMESCHOOLS, PRIVATE SCHOOL
DEADLINE FEBRUARY 25TH, 2023!!!
Resources
Download Scratch here
Scratch online can be found here (for those with wifi)
Excellent Harvard University Introductory tutorial (watch this first)
Harvard Scratch tutorial 2 – How to code with Scratch

START WORKING ON YOUR PROJECTS.  UPLOAD INSTRUCTIONS WILL FOLLOW LATER