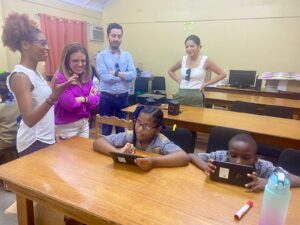 STEM education is an essential component of modern-day education, and the Inter-American Development Bank (IDB) recognizes the importance of providing access to STEM education to young people in Latin America and the Caribbean. Recently, IDB representatives visited St. Pius primary school in Guyana to witness the Learning Pods program, a partnership program between STEMGuyana and IDB in action.
Upon arrival, the team, including Mireya Cruz, Andres Arango, Irene Reyes, Kaimlall Chattergoon, from the IDB and Alisha Koulen,  and Akeisha Cave from STEMGuyana, was greeted with the sounds of children laughing and chatting, eagerly anticipating their arrival. The Operations Manager of STEMGuyana, Alisha Koulen, led the team to the Learning Pod, where they were greeted with smiles and inquisitive eyes.
Andres Arango, the Diversity, Equity, and Inclusion (DEI) Specialist,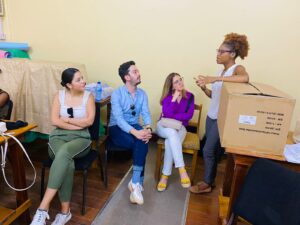 inquired about apprenticeship programs for young people and the possibility of providing them with access to jobs later. Alisha explained that STEMGuyana was working on incorporating this approach into the program. The team also discussed the importance of increasing the participation of young girls in STEM fields, with Andres stressing the need to close the gender gap and increase diversity in IDB programs.
The IDB team was impressed with the Learning Pods program's extensive reach, including the participation of communities from rural areas. The team witnessed children interact with Graphogame, a program that improves literacy and pronunciation skills, and were encouraged by the student participation.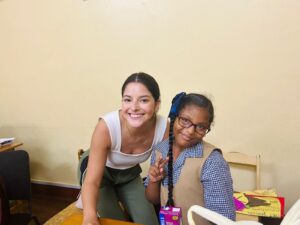 Overall, the IDB team was impressed by the program's organization, including the pledge and the Robin the robot show. They also appreciated the program's attention to detail, such as providing snacks and a mobile router to ensure that children had access to everything they needed to focus on improving their academic outcomes.
The team members hailed from various Latin American countries and noted that such programs were not as accessible and available in some of those countries. The team was thrilled to witness the progress being made in Guyana and how STEMGuyana was paving the way for STEM education in the region.