The future of STEM in Guyana 21 year old Farnaz Baksh
Reprinted from Guyana Chronicle – June 3, 2017
AS the number of young girls entering the field of Information and Communication Technology (ICT) continued to grow, Team Manager for STEM Guyana, Farnaz Baksh is one among the lot who is actively making her mark in this broad field by plunging into robotics.
The 21 year-old Farnaz is currently a First Year Computer Science student at the University of Guyana (UG) but she began these formal studies only after taking her own online courses for two years. The student acknowledged that there is global attention being placed on Computer Science, and thus chose to become involved in this field.
"It's the 21st Century, it's all about technological development," Farnaz told the Pepperpot.
She intends on studying Mechanical and Electrical Engineering too, since knowledge in these three fields are a prerequisite for building and working with robots. Despite her obvious interest in ICT, Farnaz is still interested with garnering as much knowledge as she possibly can in various fields. She expressed that learning about everything from culture to outer space is a hobby of hers, though she has a vested interest in the areas of science and technology. "I love coming up with new innovative ideas and bringing them to reality," she said.
Farnaz studied business at the Al -Ghazali Islamic Academy for the Caribbean Secondary Education Certificate (CSEC) Examinations where she wrote eight subjects. She then took a Commercial Computer-Aided Design (AutoCAD) course at Global Technology before writing an additional two subjects – Chemistry and Physics- at the CSEC examination level privately.
Farnaz said that she was actually fascinated with motor racing initially, especially MotoGP and Formula One, since they all seemed to be at the "pinnacle of technology". It was here where she believes her love for robotics began.
It was this love for robotics that led her to become involved in the Robotics Camps held last year, which were spearheaded by overseas based Guyanese, Karen Abrams.
"I attended the Robotics Camp in July of 2016," Farnaz recalled and as faith would have it, she was placed in the same group as Ricky Chan, the adult mentor/coach from STEM Guyana.
Later in September, Farnaz highlighted that Chan invited her to volunteer with youths at the Brickdam Police Station on Saturdays. It was around this time that she began her Computer Science studies at the UG.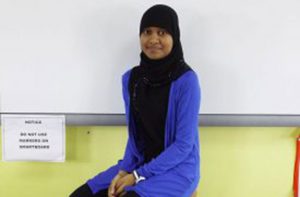 With the knowledge and skills in robotics she acquired from the Robotics Camp fuelling the flame for robotics she already possessed, she decided to approach her lecturers at UG about establishing Computer Science clubs at the University.
One club conceptualized by Farnaz was the UG Robotics Club. Through the club, Farnaz, along with other robotics enthusiasts from the Robotics camps held during the summer, introduced how to build and programme the LEGO Mindstorm EV3 Robots.
Even at this point Farnaz was not satisfied and sought to participate in the 'Hour of Code' event held last December and continued sharing her acquired knowledge of Robotics with persons form the St. Ann's Orphanage and the Lusignan Educational Learning Centre.
These camps provided her with an opportunity to actually plunge into robotics and after showing much enthusiasm and ability to lead in subsequent activities, she was selected by Karen Abrams, earlier this year, to become the Team Manager for STEM Guyana.
Farnaz and her team, which comprises of youths aged 15-19, along with an adult coach/mentor (Ricky Chan), will be representing Guyana at the inaugural Robot Olympics in Washington D.C., in July of this year. The team will be competing against novice to advanced skilled teams from across 150 different countries.
"As team manager, I act as the bridge between the students, coach, sponsors and everyone else," Farnaz said. Her other responsibilities include keeping the team in check by ensuring they complete all tasks in time, always motivating the team and working alongside Ms.Abrams in the registering processes for the team.
In fact however, Farnaz admitted that there was once a time when she felt as though she didn't have the qualities to be a leader, but she owes a lot to Ms. Abrams who placed a lot of confidence in her and allowed her to break out of her shell.
"I once asked Ms. Abrams [how come I was selected], and her response was that I'm smart, I show great leadership and many other words which I didn't think of myself," Baksh related.
Seeking to inspire other young girls, Farnaz advised: "Stop feeling scared and intimidated by others and start questioning and learning about any and everything." She also expressed that especially in this field, there will be times where people might doubt your abilities but she believes that that is the perfect time to prove them wrong.